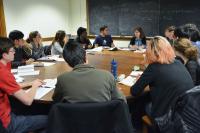 Directed Studies is an introduction to some of the most influential texts of the Western tradition, and no prior preparation is required. DS is designed for students to succeed with and without background in the texts we study: there are no pre-requisites to enrolling in DS.
Directed Studies is an outstanding foundation for any major in Yale College.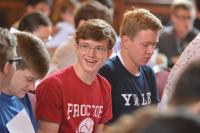 DS students from every year go on to major in humanities and social science departments, such as History, English, Political Science, Philosophy, Psychology, and of course the Humanities Major. Enrolling in DS your freshman year does not preclude you from majoring in any of the science, engineering, and mathematics departments, or from pursuing the pre-med curriculum. DS students are also well represented in competitive majors at Yale such as Ethics, Politics, and Economics (EP&E) and Global Affairs.
If you'd like to be put in contact with one of the DS Ambassadors, former DS students who have gone on to major in these fields, please write the DUS.
Why Take Directed Studies?
Mandla Dube, YC 2019, explains why he took DS.
When I started at Yale my mentor asked me a question: "Why should Africans study the seminal works of the western canon"? My answer was, "Because Africans whether by choice, their colonial legacy, or a mixture of both have chosen to live under western political institutions like democracy". I wanted to understand how western political institutions developed, what challenges are inherent in them and how those challenges have been dealt with. I wanted to understand because; looking at Africa, particularly my country, Zimbabwe, I saw our relatively younger societies falling prey to pitfalls, like tyranny and class war, that Aristotle and Plato wrote about over two thousand years ago. Was the failure of democracy in Africa a result of Africans ignoring the Western canon or the result of absurd cross-cultural translation? If the later, then what should a uniquely African type of democracy look like?
My year in Directed Studies has not given me a solid answer, and I did not expect it to. But it has clarified my vision and helped me to formulate better questions. I know now that the "Western Canon" for all its interconnections, is not one long coherent conversation as I had imagined it to be, the different nationalities of the authors that make it up change its complexion and tone almost as much as the length of time that lies between them. In the same way the way "Africa" has responded to western political institution is nation specific. In other words, I understand now that I was asking too big a question when I said, "Africa" instead of Zimbabwe.    
Mandla is a student in Timothy Dwight College from Zimbabwe and a prospective Ethics, Politics and Economics. The journey he began in DS continues!