Of the eleven Yale students awarded Rhodes or Marshall scholarships to study in Great Britain for two or three years, four spent their freshman year in Directed Studies.
We are delighted to congratulate two 2015 graduates and two alumni:
Edmund "Ned" Downie '14 (Marshall), majored in ethics, politics and economics as an undergraduate at Yale. He will study international relations at Oxford. Downie, who is a former Richard U. Light Fellow, pursued independent research in China. He is spending this year studying in India, funded by a Gordon Grand Fellowship.
S
arah Norvell '15 (Marshall), who majored in classics — specifically in Greek and Latin — will continue to study classics at Oxford. Sarah is also the curator of the exhibit on view at the Gallery at the Whitney, ""Painting in Time: Discovery, Analysis, and Interpretation of a Roman Shield from Dura-Europos," the culmination of her year-long Frank Goodyear Curatorial Fellowship in the Department of Ancient Art at the Yale University Art Gallery.

Rahul Singh '15 (Marshall), an economics and mathematics major, will pursue the MSc in econometrics and mathematical economics at the London School of Economics, then the MSc in computational statistics and machine learning at University College London. A Heinz Government Service Fellow, Singh has performed research at the President's Council of Economic Advisers, the Yale Department of Economics, and the Centre for Policy Research in New Delhi. He also has founded financial literacy programs in Cleveland and New Haven.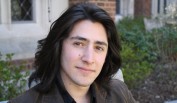 Gabriel M. Zucker '12 (Rhodes) who graduated summa cum laude, majored in ethics, politics and economics, as well as in music. He won many major awards for character and service as well as scholarship. After Yale, he worked at the Abdul Latif Jameel Poverty "Action Lab," conducting fieldwork in Pakistan and Indonesia. For the past year, he has been associate director of the Connecticut Heroes Project, a campaign to end veteran homelessness in Connecticut. As an undergraduate, Zucker had run Yale's Hunger and Homelessness Action Project. He is a professional pianist, bandleader, singer-songwriter, and producer. A work he composed for symphony orchestra and big band premiered at Carnegie Hall in 2012. Before pursuing a Ph.D. in economics, Zucker plans to earn a M.Sc. in evidence-based social intervention and policy at Oxford.
To read more about the 2014 Yale recipients of the Rhodes and Marshall Scholarship, http://news.yale.edu/2014/11/23/11-yalies-win-prestigious-scholarships-study-across-pond